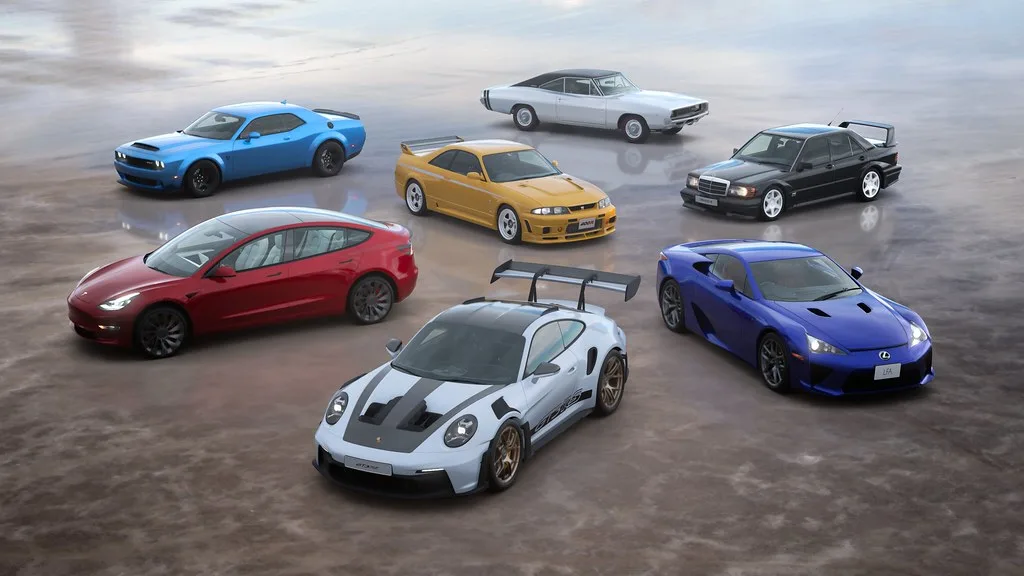 Polyphony Digital bracht woensdag een grote update voor Gran Turismo 7 uit, versie 1.40. Deze kwam met nieuwe auto's, een nieuw circuit, uitdagingen en nog veel meer. De belangrijkste details van de update kan je hier teruglezen, hieronder hebben we de patch notes.
Na het uitbrengen van de update heeft Polyphony Digital een overzicht van patch notes uitgebracht die wat meer specifiek de aanpassingen en verbeteringen duiden. Dus mocht je daar benieuwd naar zijn, dan kan je het onderstaande overzicht even raadplegen.
Main Features

1. Opening Movie

The opening cinematic movie that plays when starting up the game has been updated. After the update, the "Play Opening Movie" option will be set to On when the game restarts.

2. Cars
The following seven new cars have been added:

Dodge Charger R/T 426 Hemi '68 (available for purchase at the Legend Cars dealership)
Dodge Challenger SRT Demon '18
Lexus LFA '10
Mercedes-Benz 190 E 2.5-16 Evolution II '91 (available for purchase Legend Cars dealership)
NISMO 400R '95 (available for purchase Legend Cars dealership)
Porsche 911 GT3 RS (992) '22
Tesla Model 3 Performance '23

3. Tracks
The Lake Louise race track has been added, with six different layouts:

Lake Louise Long Track
Lake Louise Long Track Reverse
Lake Louise Short Track
Lake Louise Short Track Reverse
Lake Louise Tri-Oval
Lake Louise Tri-Oval Reverse

The new track will be unlocked at Collector Level 22.

4. World Circuits

"Meeting Place" has become the "Paddock." This mode can be accessed from World Circuits or Multiplayer Pavilions and enables players to communicate with each another through text chat and emoticons.
"Arcade Race" has been replaced with "Quick Race." Also, in addition to the existing AI mode, players can select to race a prototype version of the AI racing agent "Gran Turismo Sophy" (available only on the PS5 console on specific tracks and with specific cars).
The prizes for Quick Race and Custom Race have been increased. Credits awarded for these races increase based on the player's Collector Level and Circuit Experience progress.
The mode "Weekly Challenges" has been added, where players can face events that change every week. This mode becomes available after clearing Menu Book No. 39 (Championship: World GT Series) and having watched the ending.
An "Event Directory'" button has been added to make it easy to find all the race events available.
A "Change Car" button has been added.
"Circuit Experience" has been added to the Lake Louise track in the Americas section.

The following new events have been added to World Circuits:

World Touring Car 900

Trial Mountain Circuit
Nürburgring
Suzuka Circuit
Autopolis

X2019 Nations Cup

Interlagos Circuit
Trial Mountain Circuit
Dragon Trail
Lago Maggiore Circuit
Sardegna – Road Track

World Rally Challenge Gr.B

Japanese 4WD Challenge 600

Lake Louise
Pickup Truck Race
Lake Louise

Clubman Cup+

Special Stage RouteX
Watkins Glen International
Monza Circuit
Fuji Speedway

GT Cup Gr.3

Daytona International Speedway
Deepforest Raceway
Redbull Ring
Mount Panorama5. License Center

5. License Center

"Master Licenses" mode has been added to License. It is unlocked after completing the Normal License.

6. Brand Central

New Museum section for Abarth has been added for Europe (Italy).

7. Café

The following Menu Books have been added:

Menu Book No.48: World Touring Car 900 (Collector Level 39 and above).
Menu Book No.49: Nations Cup (Collector Level 50 and above).

The following Extra Menus have been added:

Extra Menu No.31: Collection: Road-Going Racers (Collector Level 30 and above).
Extra Menu No.32: Collection: Lexus (Collector Level 34 and above).
Extra Menu No.33: Collection: Red Bull X Series (Collector Level 50 and above).

We added new sets of conversations with the Car Designers and Characters appearing in the Café. These new conversations can be accessed by changing to the following cars in Garage and speaking with the characters in the Café:

CAR DESIGNERS

Ed Welburn

Dodge Challenger SRT Demon '18
Ferrari FXX K '14

Fabio Filippini

DS DS3 Racing
Ferrari F12 Berlinetta
Ferrari F430

Freeman Thomas

Volkswagen 1200
Volkswagen Samba Bus

Hideo Kodama

Shiro Nakamura

Lamborghini Huracan LP610-4
NISMO 400R

8. GT Auto

Car Maintenance & Service – Engine Swaps have been added for the following cars (unlocked at Collector Level 50):

Chevrolet Corvette C7 Gr.3 Road Car
Chevrolet Corvette ZR1 (C6) '09
Dodge Viper GTS '13
Ford Mustang Gr.3 Road Car
Lamborghini Huracan LP 610-4 '15
Lexus RC F '14
Mazda Atenza Gr.3 Road Car
Mitsubishi Lancer Evolution Final Edition Gr.B Road Car
Nissan GT-R Nismo '17
Subaru WRX Gr.B Road Car

Car Customization

The following brands have been added to the pre-set decals in the Livery Editor: Spoon

9. Tuning Shop

"Snow Tires" option has been added to the Tuning Shop.

10. Scapes

The Player's Favorites collection has been added as a featured Curation in Scapes.
Polyphony Digital Tokyo Office has been added as a new Spot under "Japan > Tokyo."

11. Race Photos

We changed the height limit of Walk Mode for certain tracks allowing you to take photos from a higher position.
New Shutter Speed values have been added, making it possible to select a speed between 1s and 1/30s.
A "Rendering Quality" option has been added to the Detailed Settings section of the Camera tab: Standard, Fine and Extra Fine can now be selected to increase the number of subframes when rendering, enhancing the quality of photos with movement.

12. Replay

A "Replay Loop" option has been added in the Replay Options (only available for regular replays).

13. GT Menu

A new dashboard, which shows completion rates for each of the various World Map pavilions, has been added.

14. Multiplayer

We added "Paddock" and "Split Screen Race," where up to 4 players, each with their own controller, can now race together (PS5 version only).

15. Sport

Indicators have been added to the Driver List in the post-race screen to show the variations in the Driver Rating (DR) and Sportsmanship Rating (SR).

Other Improvements and Adjustments

1. Cars

We fixed an issue with the Garage RCR Civic, in which the anti-roll bar setting could not be changed after a fully customized suspension had been fitted.
We also increased the viewable range of the interior of the Toyota Ambulance Himedic '21 in the VR Showroom.

2. Localization

We addressed various text localization issues.

3. Others

Various other issues have been addressed.